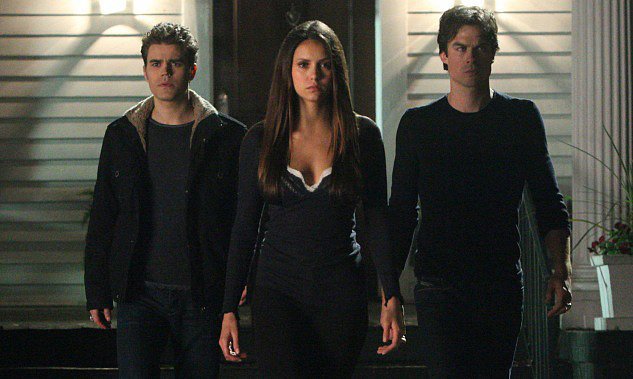 The Vampire Diaries
cast was the latest ensemble to hit PaleyFest in LA this weekend, and
Ian Somerhalder
,
Paul Wesley
,
Nina Dobrev
joined executive producers Julie Plec and Caroline Dries to chat about the show. They tried not to spill too much about what's coming up for the rest of the season, but they did loosen up a little to answer some important questions that have probably been plaguing most
Vampire Diaries
fans.
What's Going on With Damon and Elena's Relationship?
Plec said that currently, Damon and Elena "recognize the elements of the codependency of their relationship," and "they need to have legit adult conversations." Somerhalder added, "When you have grown up conversations, you have to put your big boy pants and big girl pants on," and then he cheekily added what the caveat is: "They keep taking their paints off, and that's what gets in the way of the grown up conversations." Somerhalder only gave us this nugget regarding the future: "It is what it is. Eventually it'll be . . . who knows?" Do with that what you will.
Did Katherine Really Go to Hell?
Plec admitted that Katherine's fate is one of the few times that the writers have left it up to the viewer's imagination. "Damon says 'see ya in hell'," but it's still up to the viewer to ask, 'is that really what happened?' Dries said the writers "don't use heaven and hell and religion on the show," but "I thought it was pretty obvious it was hell." Fun fact: if the church looked familiar, you probably watch
The Originals
, because the set was borrowed from their sister series.
See more